Aspire BVC Coil
eGo ONE Coils
Out of Stock
iClear30b Coils
k1000 Coils
Kanger Nano Multi-Color O-Rings
Kanger Subtank Mini O-Ring Replacements
Out of Stock
Kanthal Wire 30ft Pre-Packaged
Kayfun Replacement Plastic
Out of Stock
Mini Nautilus Cage/Glass Replacement
Nautilus Cage/Glass Replacement
Out of Stock
TFV4 Replacement Glass
Out of Stock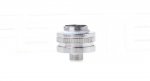 Kanger Aerotank Airflow Control Valve Replacement

Aerotank Mega/Mini Airflow Control Valve Replacement


Kanger Aerotank Airflow Control Valve Replacement

Compatible with Kanger Protank II Kanger Protank 3 and Kanger Aerotank


Kanger Aerotank Mega Glass Replacement

A replacement glass section for the Aerotank Mega manufactured by Kanger


Kanger Dual Coil Replacements

Dual Coil Heads to fit the Kanger Protank/Mini Protank v1 & v2 Evod Unitank.


Kanger Pyrex Glass Replacement (MINI Protank II Protank 3 Aerotank)

This is a replacement pyrex glass for Mini Protank II the Mini Protank 3 and the Aerotank Mini.


Kanger Pyrex Glass Replacement (Protank II Protank III & Aerotank)

Pro-tank 2/ Protank 3 Pyrex Glass Replacement


Kanger Single Coil Replacements

Kangertechs single replacement coils for Kanger EVOD Protank Protank 2 AnyVape BCC Tanks Vision V-Tox. 


Kanger SubOHM Dual Coil 0.8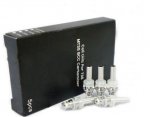 Kanger T3s Coil 2.2ohm

Replacement Atomizer Head for Kanger T3S Kanger MT3s



Out of Stock
Kayfun Isolatoren

Kayfun Isolatoren


Kayfun Spare O-Rings (lite)

Kayfun Spare O-ring and Replacement Screw Set


Plastic Tip
Out of Stock
ProVape Cleaning Maintenance Kit

This ProVari cleaning kit comes with all the items you need to keep your ProVari clean inside and working in top shape. Includes: 5 - Long Q-Tips 1 - Zipper Bottle filled with 99% Isopropyl Alcohol 2 - Replacement Springs



Out of Stock
Two Guns 1.0 Cartomizer
The Kick by Smoktech

The Kick by Smok Tech The Kick is a power booster for your mechanical mod. It works great and gives you numerous options from increasing power to the cartomizer or clearomizer you currently use to allowing you to use a higher resistance cartomizer or